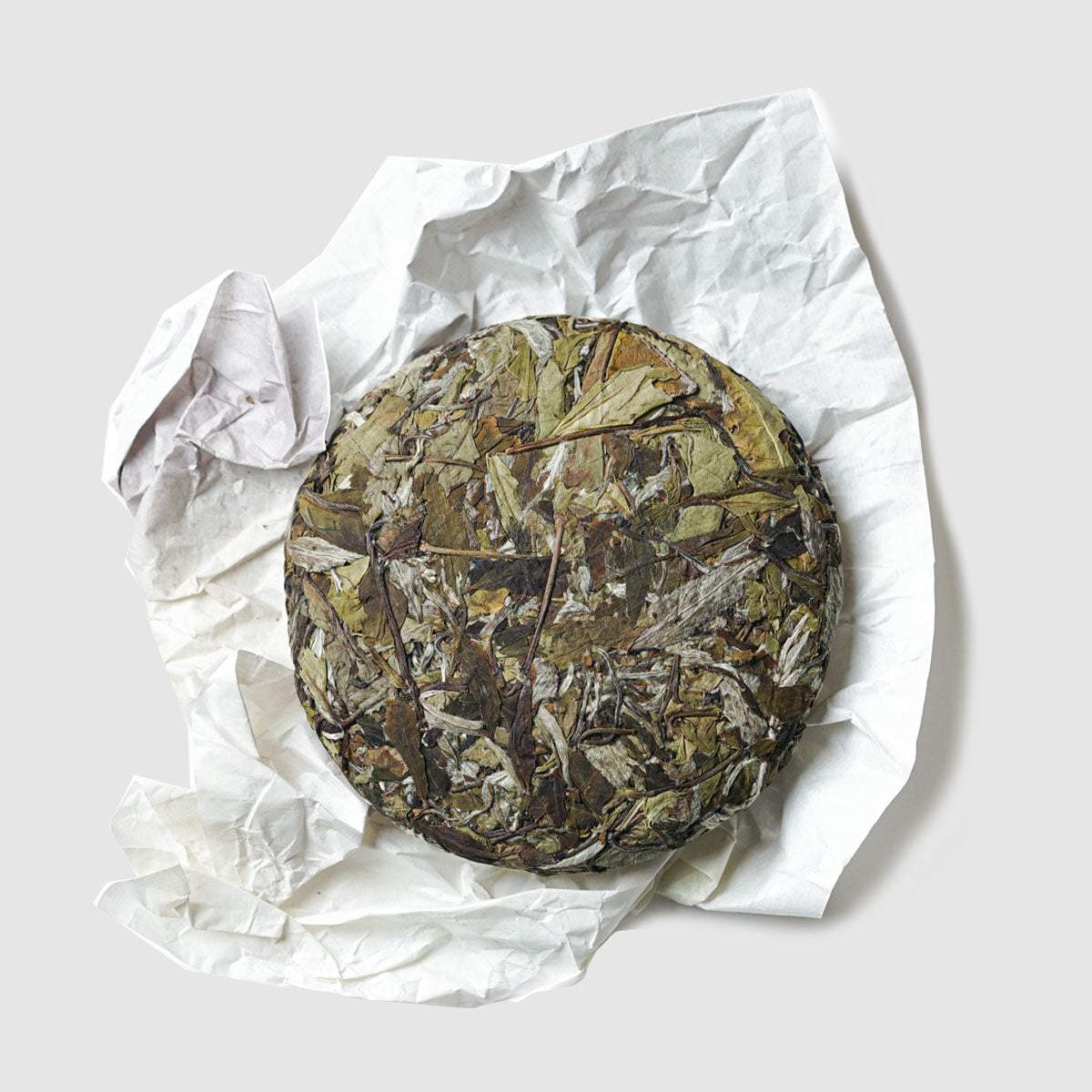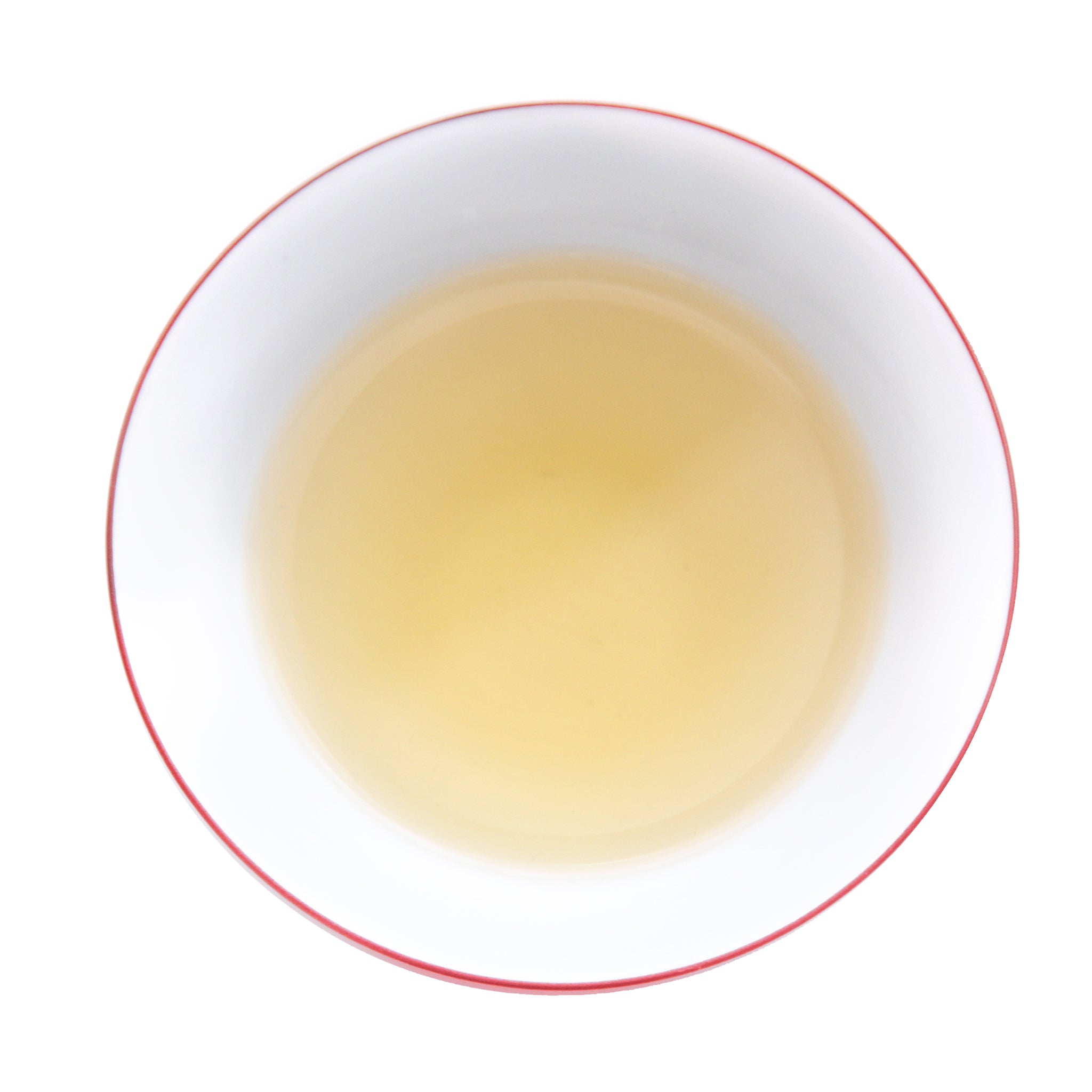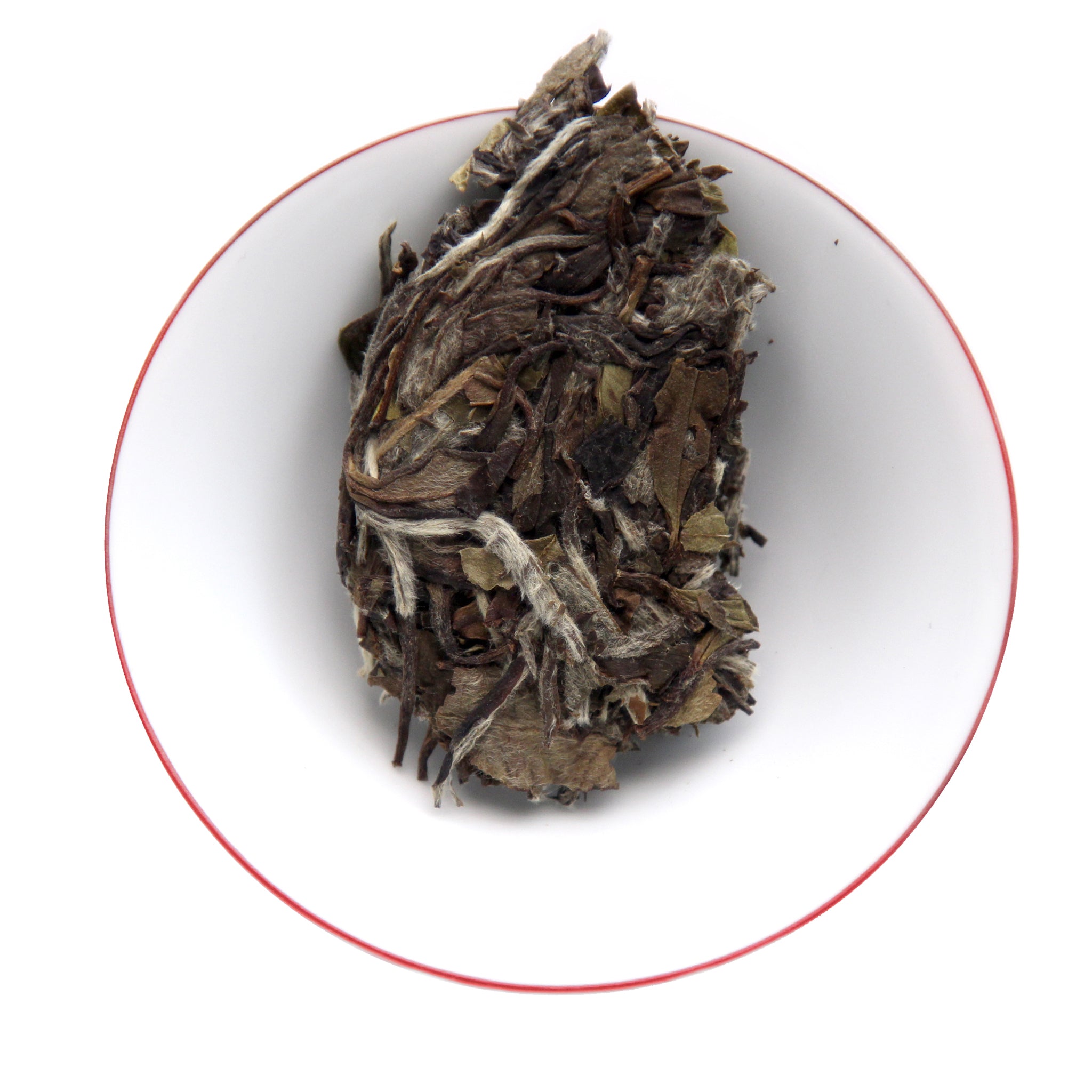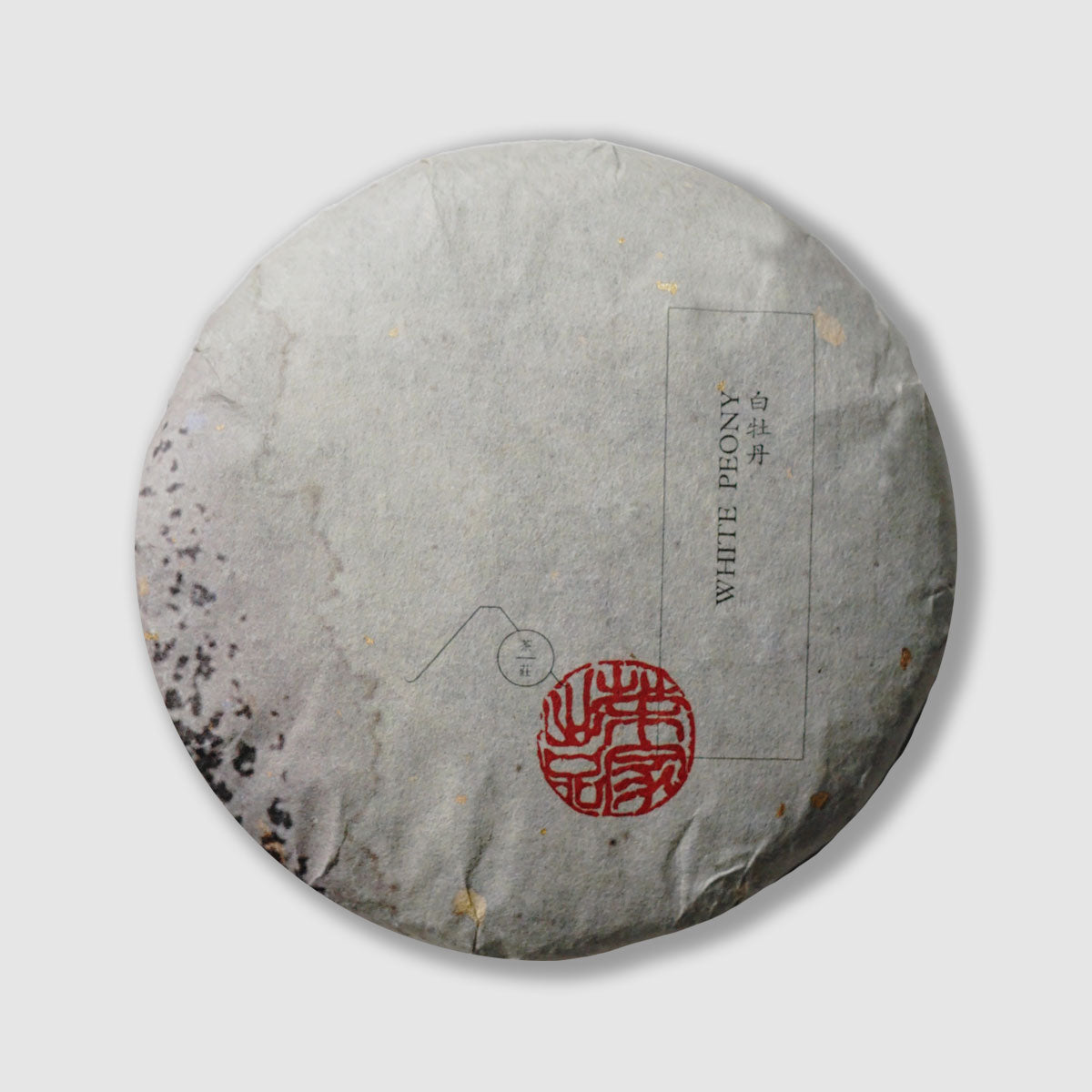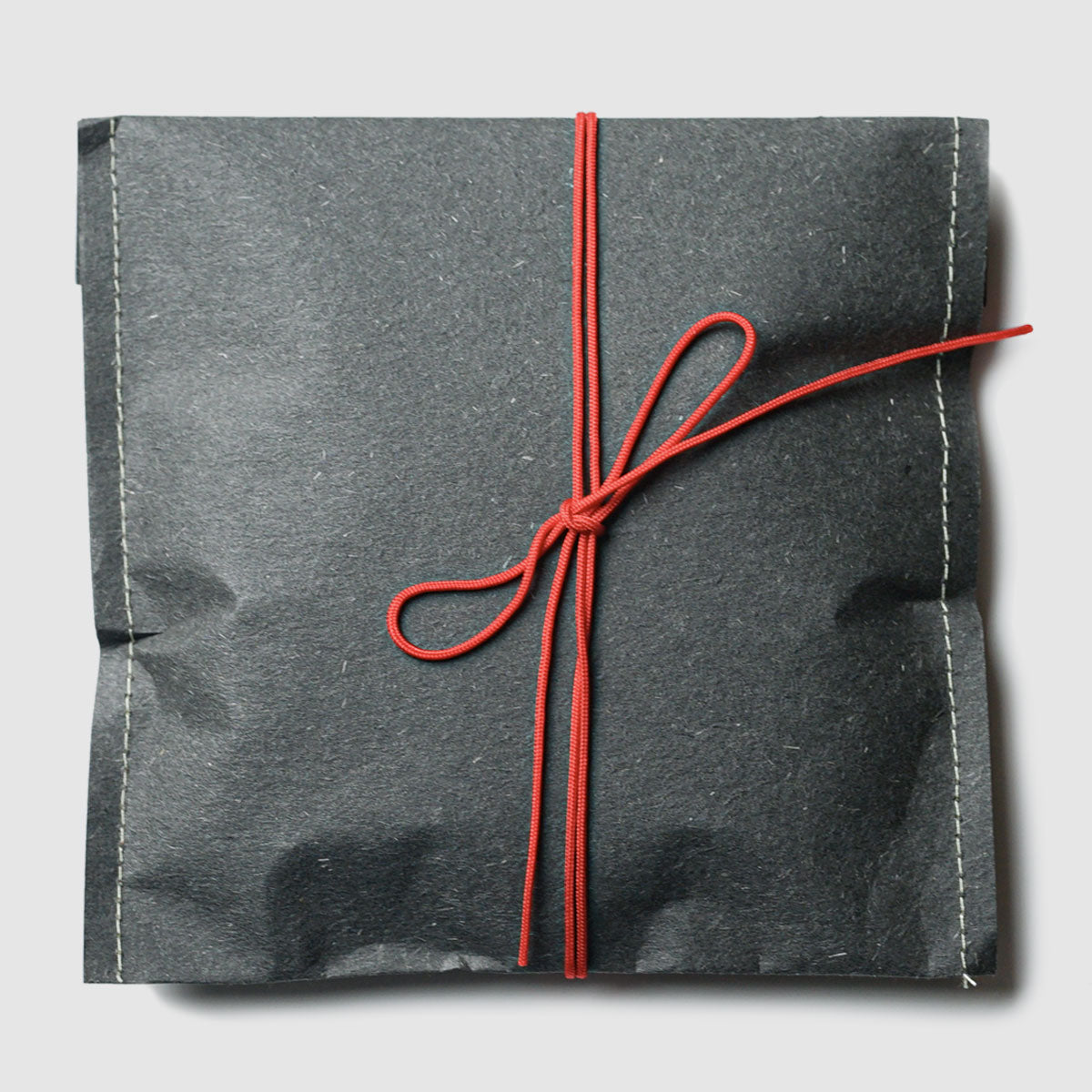 About
Brewing tips
Breaking the tea cake
White Peony Tea Cake|白牡丹茶餅
 Tasting notes: Muscatel, honey, soy milk

 Origin: Fuding, Fujian, China

 Cultivar: 福鼎大白 Fuding Dabai

 Elevation: 620m

 Oxidation: ⦿⦿○○○

This aged White Peony Tea Cake makes for a precious gift, a compact travel companion or a long-term treasure. It is a delightfully fresh-tasting tea, with a honey-like viscosity and a muscatel flavour that mellows and deepens with age. We even taste something akin to soy milk in this tea! Our top grade tea cakes are made and pressed in Fujian, the birthplace of white tea.

For centuries, tea has been pressed into cakes for practical reasons like storage and transportation. It also makes it ideal for ageing. Our White Peony Tea Cakes have already been aged for two years.

We find that fresh white teas taste more astringent and green, then get sweeter and mellower over time. To experience the difference ageing makes for yourself, try some of this cake straight away, then after a year, two years and five years. It's helpful to take notes each time so you can look back and see the difference in flavour over time.

What is White Peony tea?
Loved for its sweet fragrance and herbaceous flavour, White Peony (白牡丹 Bai Mudan) is the second picking grade of white tea after Silver Needle (purely buds), and comprises one plump bud and two leaves. The high proportion of white furry buds gives the tea a sweet, succulent flavour and plenty of nutrients.

Why is it called White Peony? 
There are a few theories: some people say it was common for tea traders to name teas after flowers, and peonies symbolise wealth in China. Others say it's because the one-bud-two-leaves picking standard looks like the shape of a flower. And still others say it's named after its floral fragrance. 
Read: Tea 101: All about white tea

teaCLUB members get 10% off!
Gongfu style (Gaiwan)
4g | per 100ml | 85°C | 1 min
+10s per steep for at least 5 steeps

Western style (Teapot)
3g | per 100ml | 85°C | 3 mins
+ 1 min per steep for at least 3 steeps

Cold brew
10g | 1L | Room temp/ refrigerated | 6 hours

We recommend avoiding boiling water or over-steeping with this tea, as there will likely be some broken bits that can turn bitter. For a sweeter brew, try 85°C water, and don't let the tea stew in the water too long.

These are just guidelines. As we always say, it's best to experiment with a range of temperatures and leaf-to-water ratios to understand the tea and your own taste preferences.
When breaking into your tea cake, the aim of the game is to get as many whole chunks as you can, and keep the leaves intact. Try not to crumble it too much, as the crushed tea leaves will give a more bitter, astringent taste. Still, some crushed leaves are inevitable here.

You can use a tea pick or just your hands. With a tea pick, work from the outside in and look for an opening in the edge of the cake. Make sure the hand holding down the tea cake is parallel (not perpendicular) to the pick to avoid stabbing yourself. Find an area with some give, push the tea pick in, then slowly peel a layer of tea leaves upwards, keeping it intact with your thumb.

Then place that chunk into your warmed teapot or gaiwan, and go in for another.

If you don't have a tea pick, you can try breaking off some chunks from the edge with your fingers, like breaking off a piece of bread from the corner of a loaf.
Shipping
Covid update
Due to the pandemic, international delivery fees are higher than normal and we cannot deliver to some countries. Contact us at discover@plantation.hk for help.
Hong Kong delivery
Delivery is free for orders of HK$500 or more. Heavy items do not qualify for free shipping. Please allow 5-7 working days for your delivery. See our shipping policy.
International delivery
Delivery is free for orders of HK$2500 or more. All other orders have a flat delivery fee of HK$450. Heavy items do not qualify for free shipping. We aim to send orders within 5 business days of payment, and they are usually delivered within 14-60 days, depending on the destination. See our shipping policy.
Returns policy
If you would like to return an item, please contact us at discover@plantation.hk first. Items returned without notification may not be properly identified and may result in delays in addressing your concern and/or processing your refund.
Not all items are eligible for refunds. Please see our refund policy for more.