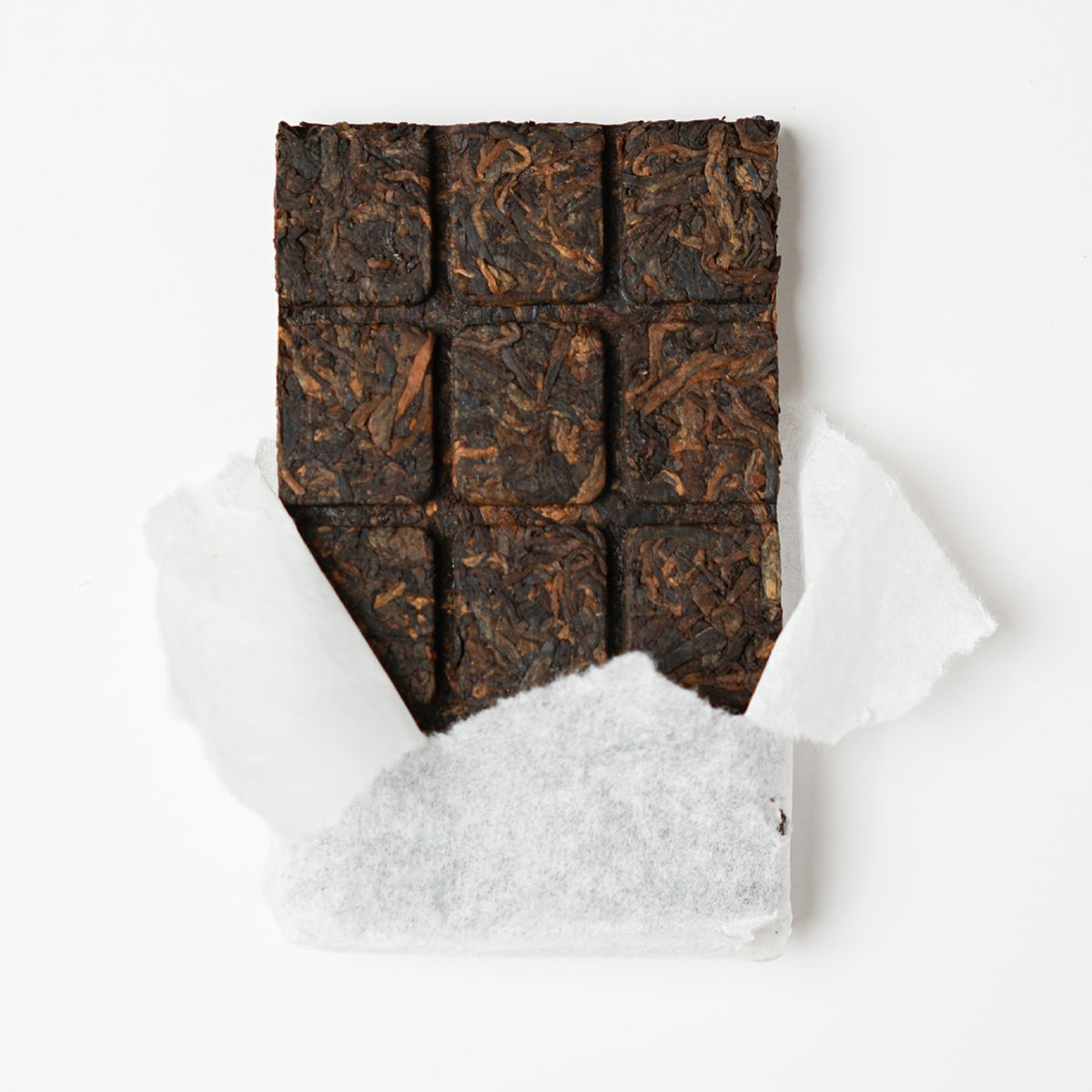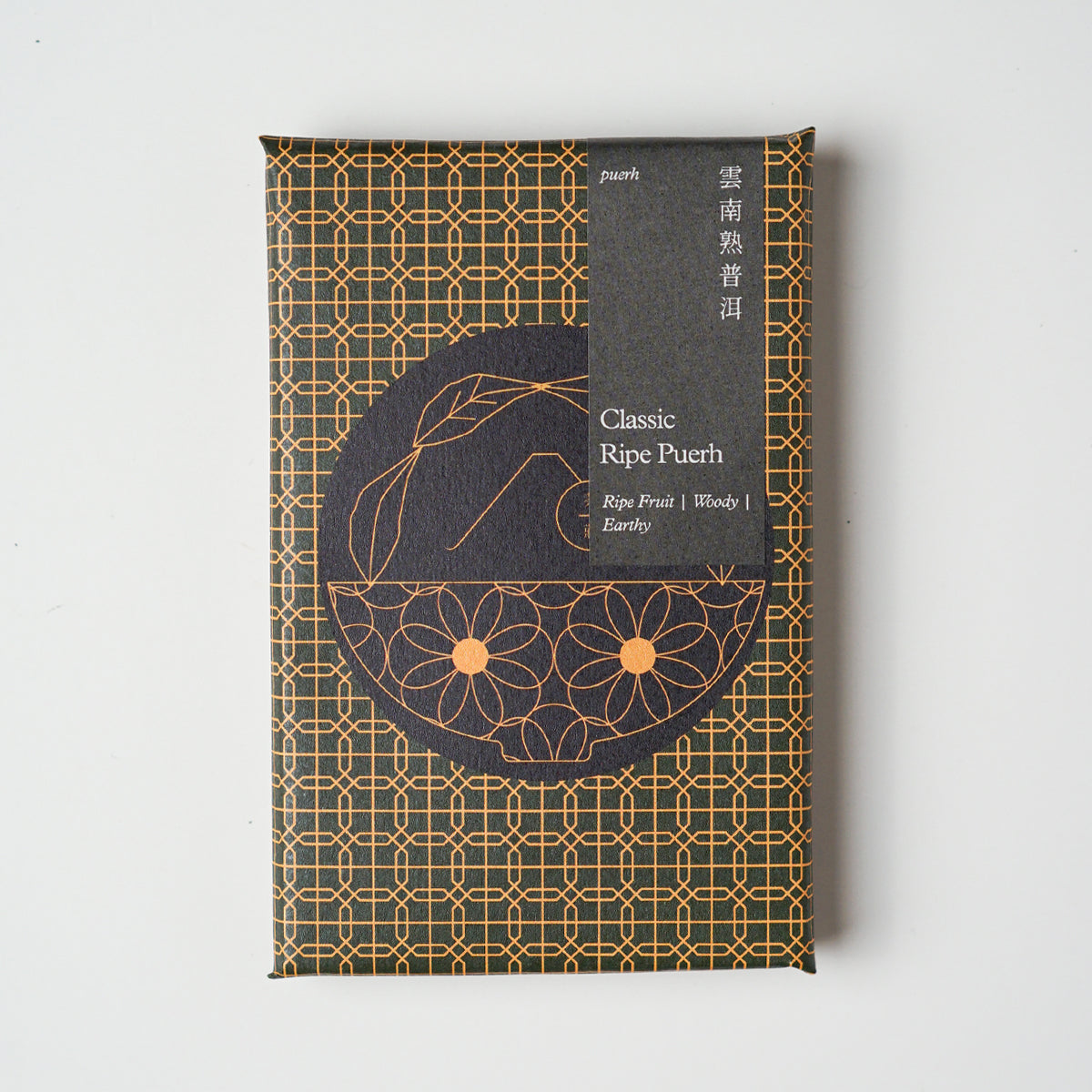 Classic Ripe Puerh Tea Bar (90g)
Classic Ripe Puerh Tea Bar |  雲南熟普洱茶磚


 Tasting notes: Ripe fruit, woodsy, earthy

 Origin: Puerh, Yunnan, China

 Cultivar: 大葉種 Daye Zhong (Puerh Assamica)

 Elevation: 1000m

 Oxidation: ⦿⦿⦿⦿⦿

A Hong Kong favourite, this aged Classic Ripe Puerh has a silky smooth consistency with a grounding, earthy flavour. As a fermented tea, Classic Ripe Puerh is full of healthy microbes, making it the perfect digestive aid after a heavy meal. Our Tea Bars are pressed into a compact chocolate bar shape for easy portioning and brewing. To brew, simply break off a square, add hot water, and enjoy!

Ripe Puerh is fermented in a process called wet-piling (渥堆), where the tea leaves are left in humid conditions for microbes to do their work. The finished product is full of healthy probiotics that help digestion—which is why it is often paired with dim sum. It is also shown to help improve blood sugar control and lower cholesterol levels. 

Because the tannins are broken down in the fermentation process, Ripe Puerh has no bitterness or astringency. It's a delightfully mellow and relaxing tea that can be drunk in the evenings. You can also keep it for many years, as it ages well.

It's rare to find quality Ripe Puerh (熟普洱) these days, as the majority is made from leftover, lower quality Raw Puerh (生普洱), so we're very pleased to have found this family who've been growing tea for three generations in Jinggu, Yunnan and are dedicated to perfecting Ripe Puerh in its own right.

This 90g bar has 8 squares of tea and you can brew each square 5-6 times, depending on the size of your brewing vessel.

Read: Tea 101: All about Puerh tea

teaCLUB members get 10% off!

Gongfu style (Gaiwan)
1 square | per 100ml | 98°C | 1 min
+10s per steep for at least 7 steeps

You can 'rinse the tea' with hot water (throwing out the first infusion) to get the squares to loosen faster.

Western style (Teapot)
1 square | per 150ml | 98°C | 3 mins
+1 min per steep for at least 3 steeps

These are just guidelines. As we always say, it's best to experiment with a range of temperatures and leaf-to-water ratios to understand the tea and your own taste preferences.
Classic Ripe Puerh Tea Bar (90g)
Shipping
Covid update
Due to the pandemic, international delivery fees are higher than normal and we cannot deliver to some countries. Contact us at discover@plantation.hk for help.
Hong Kong delivery
Delivery is free for orders of HK$500 or more. Heavy items do not qualify for free shipping. Please allow 5-7 working days for your delivery. See our shipping policy.
International delivery
Delivery is free for orders of HK$2500 or more. All other orders have a flat delivery fee of HK$450. Heavy items do not qualify for free shipping. We aim to send orders within 5 business days of payment, and they are usually delivered within 14-60 days, depending on the destination. See our shipping policy.
Returns policy
If you would like to return an item, please contact us at discover@plantation.hk first. Items returned without notification may not be properly identified and may result in delays in addressing your concern and/or processing your refund.
Not all items are eligible for refunds. Please see our refund policy for more.