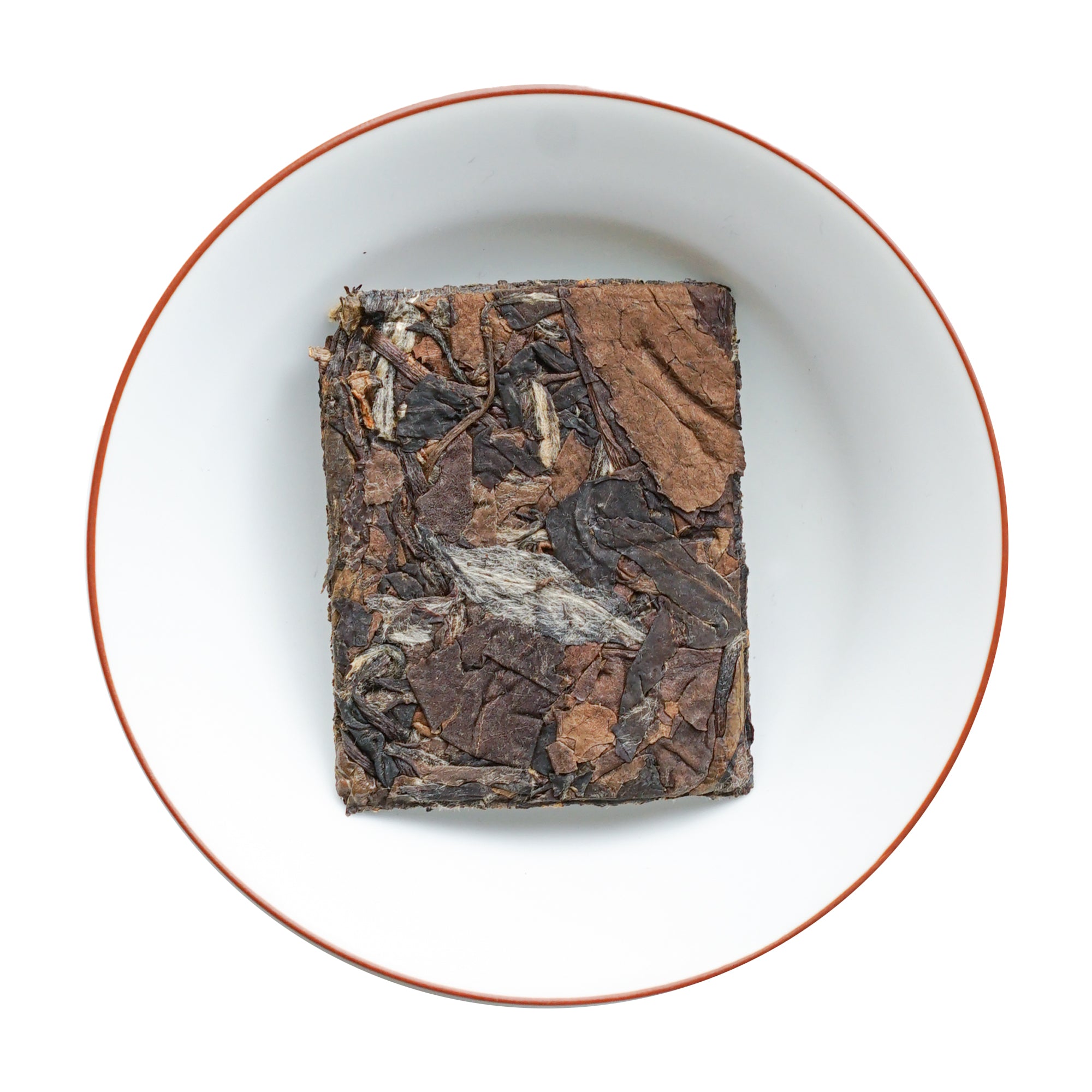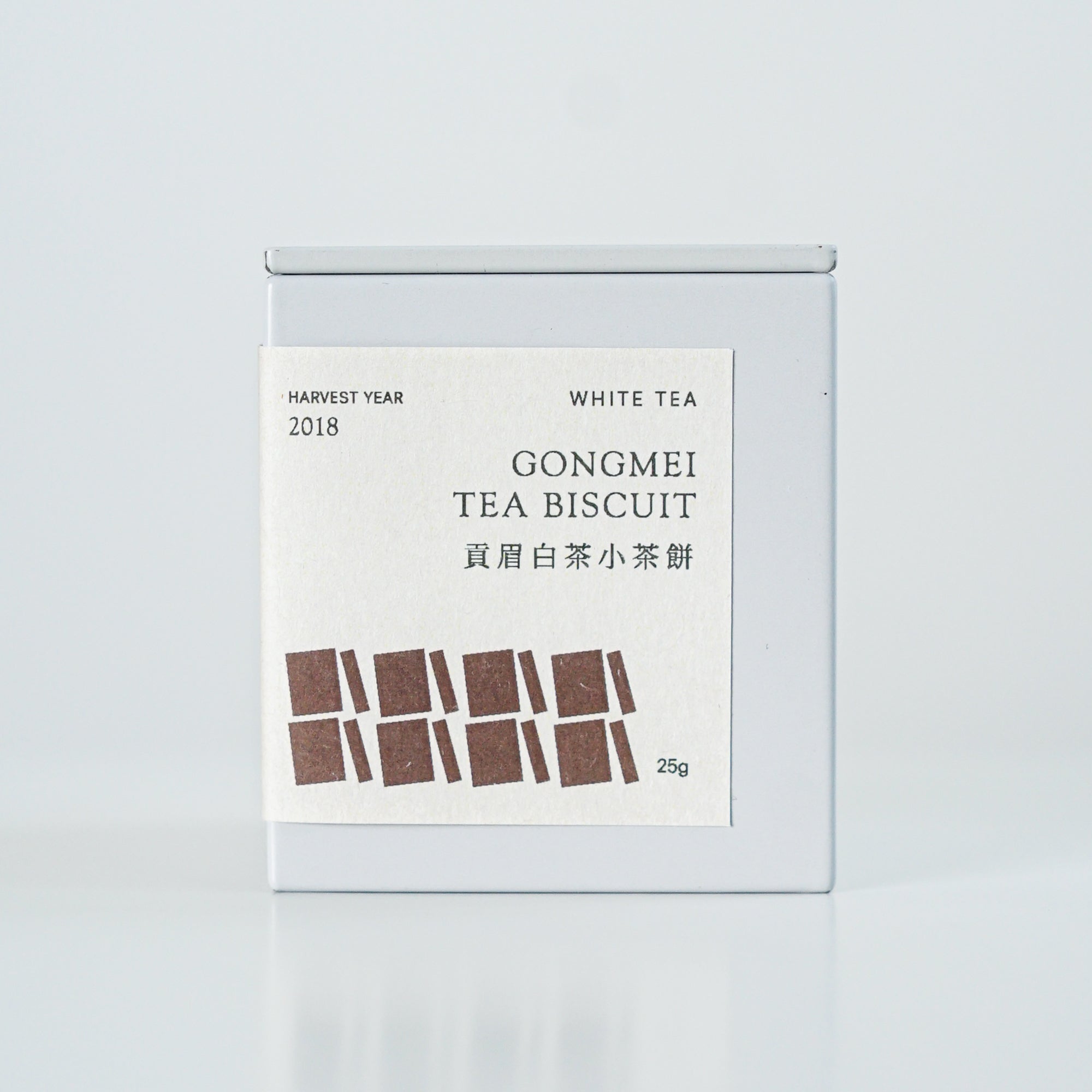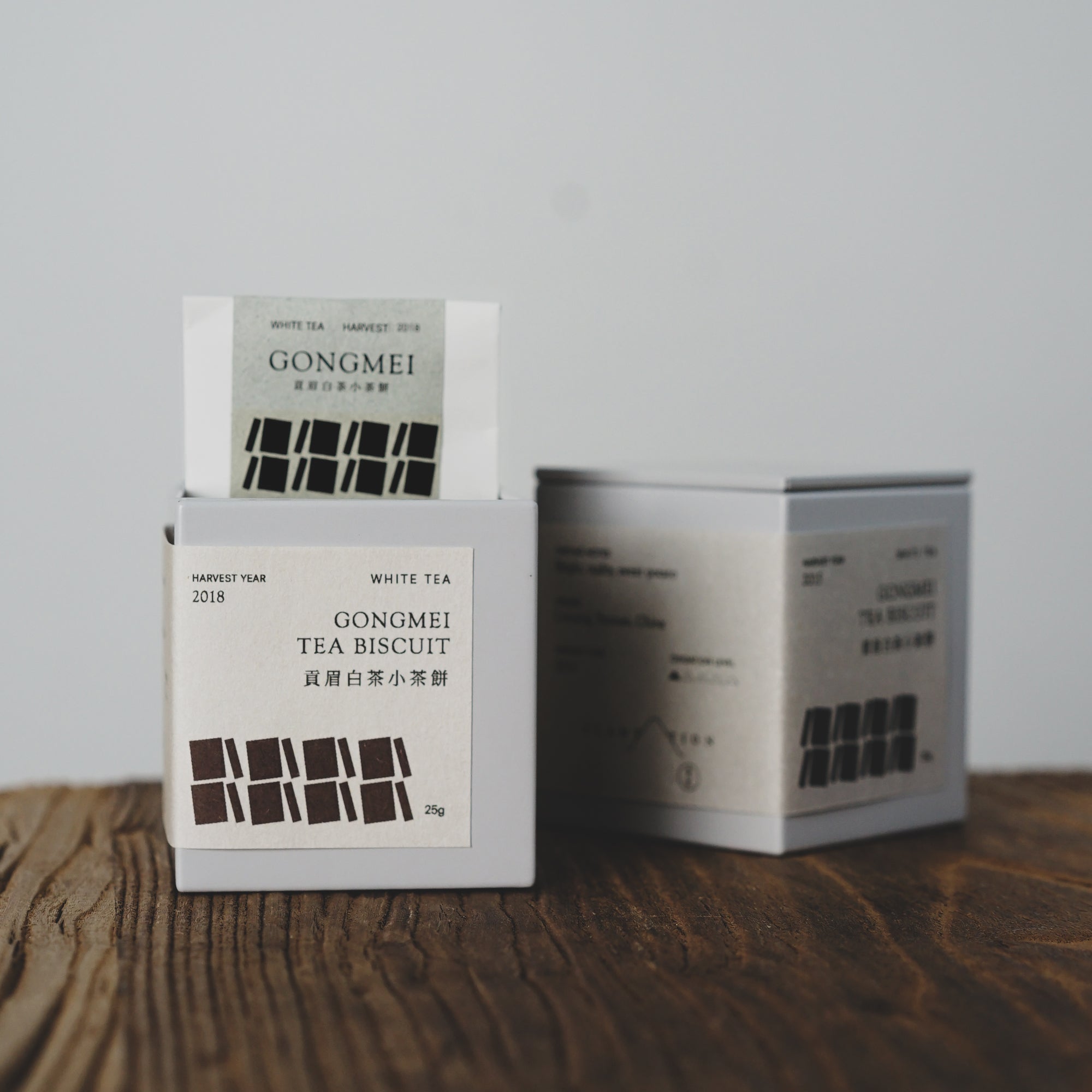 Gong Mei Tea Biscuit 2018 (Ecru Tin/10pcs)
 Gong Mei White Tea 2018 Tea Biscuits | 貢眉白茶小茶餅 2018
 Tasting notes: Herbaceous, honey, dark chocolate

 Origin: Fuding, Fujian, China

 Cultivar: 福鼎大白 Fuding Dabai

 Elevation: 620m

 Oxidation: ⦿⦿○○○

Gong Mei 貢眉 is a type of white tea that consists mostly of larger leaves, with a few white buds sprinkled in. These larger leaves have a more robust flavour than the buds, with a malty base and notes of wet forest and honey.

It is the 3rd picking grade after:
Silver Needle 白毫銀針 (only buds), and

White Peony 白牡丹 (bud and two leaves).
This Gong Mei White Tea has been pressed into compact biscuit shapes for easy brewing. Just add hot water, steep, strain and enjoy!

Harvested in 2018 and pressed in 2022, this tea has been aged for 4 years. 
White tea (especially Gong Mei) is great for ageing, because - as a minimally processed tea - it continues to slowly oxidise and develop a deeper flavour over time, thus the famous saying about white tea: "一年茶、三年藥、七年寶" ("One year tea, three years medicine, seven years treasure").
Try our Gong Mei White Tea (2015) Tea Biscuits for comparison. 


Each tin contains 10x 4g tea biscuits, which can be brewed up to 5 times each.

teaCLUB members get 10% off!



Gong Mei Tea Biscuit 2018 (Ecru Tin/10pcs)
Shipping
Covid update
Due to the pandemic, international delivery fees are higher than normal and we cannot deliver to some countries. Contact us at discover@plantation.hk for help.
Hong Kong delivery
Delivery is free for orders of HK$500 or more. Heavy items do not qualify for free shipping. Please allow 5-7 working days for your delivery. See our shipping policy.
International delivery
Delivery is free for orders of HK$2500 or more. All other orders have a flat delivery fee of HK$450. Heavy items do not qualify for free shipping. We aim to send orders within 5 business days of payment, and they are usually delivered within 14-60 days, depending on the destination. See our shipping policy.
Returns policy
If you would like to return an item, please contact us at discover@plantation.hk first. Items returned without notification may not be properly identified and may result in delays in addressing your concern and/or processing your refund.
Not all items are eligible for refunds. Please see our refund policy for more.